Default Welcome Message explained
Welcome messages enable a business to set or specify a message that displays when someone first enters a Direct Message conversation, before any messages have been exchanged.
Businesses can set a default welcome message that people see when they start a conversation organically. This gives businesses the opportunity to not only start a conversation expressing their brand voice, but also demonstrate their commitment to service, help people learn what to expect and much more.
Default Welcome Messages provide the ability to display a message to people who are entering a Direct Message conversation. Without a default Welcome Message, users are presented with an empty Direct Message conversation view or the state of the previous conversation.
Use a default Welcome Message to provide context to users including what services are provided, when they can receive response or provide Quick Reply options.
When a Welcome Message is set as default, it will be presented to the user in the following scenarios:
Direct Message compose view opened for the first time.
Direct Message compose view opened for the first time since leaving a conversation.
Direct Message compose view opened after no message activity for 7 days.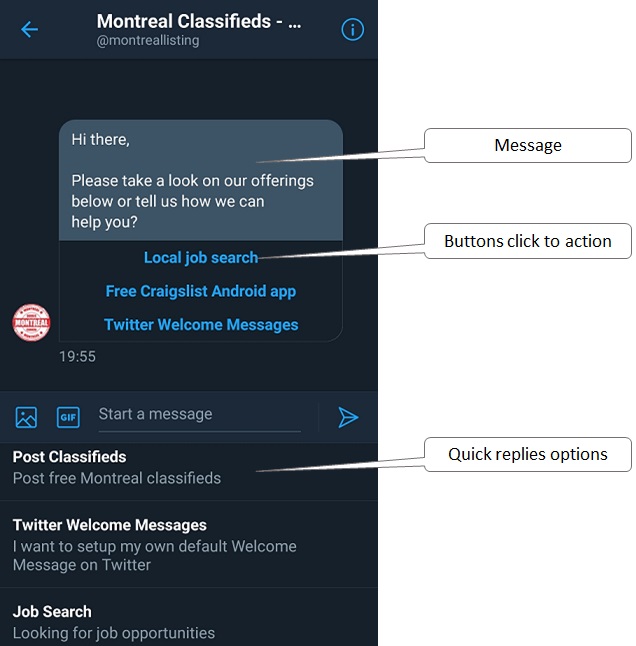 How our service works: setting up Twitter Default Welcome Message
Sign in with your Twitter account to authorise our application to set the Default Welcome Message
Activate the service. This is non-refundable onetime fee which grants you select period of time (1 day, 1 month, 1 year) to edit and set the default welcome message.
Edit your default welcome message: regular message with quick selects and click to action buttons (cta)
Use quick replies for fast, structured responses
Quick replies let businesses prompt people with simple, guided ways to reply to a Direct Message, whether by choosing from a list of options or prompts to enter specific text values. This enables businesses to create seamless automated experiences for people that makes resolving problems and engaging with customers fast and easy.
Use buttons for click to action
Buttons enable developers to add up to three call-to-action (CTA) buttons to any Direct Message or Welcome Message. These buttons can be used to open any URL from the Direct Message compose view. The text labels displayed on the buttons can be fully customized. This feature is intended to make it easier for users to complete actions outside of Direct Messages.
Deeplinks
Each welcome message has its own deep link. Using deeplinking and click to action combination you can connect multiple welcome messages, creating chatbot experience.
Learn more about deep-linked welcome messages
.